What Is Customer Engagement? How Can It Grow Your Business?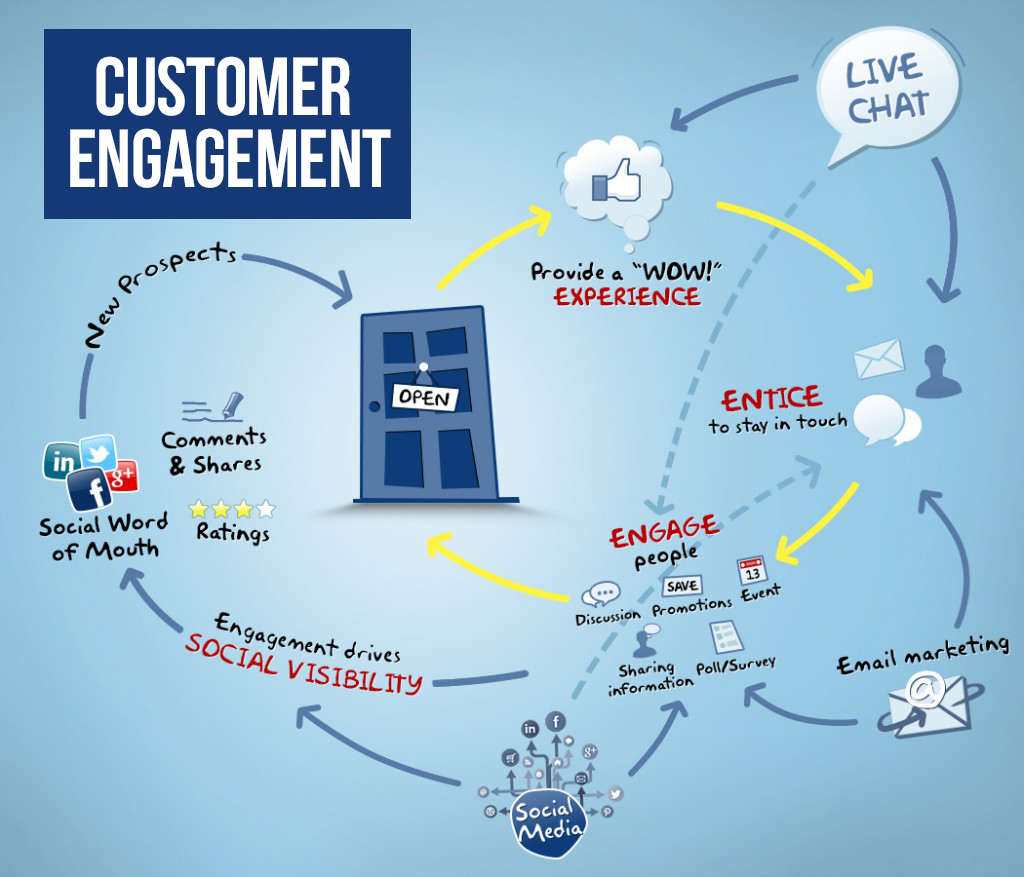 Five Reason Why Fully Engaged Customers Will Help Grow Your Business.
I'm not sure if it can ever be said that a customer is fully engaged with your company or brand. One thing is certain, however, there is a big difference in behavior and attitude between a customer who is engaged and one that is disengaged or hostile.
So what is customer engagement and what does a fully engaged customer look like? Before we jump into this let's examine some statistics: a) 66% of customers are willing to spend more with companies who provide superior customer service. (SAP, Customer Service is the Heart of Marketing)… b) According to a CEI Survey, 86% of buyers will pay more for a better customer experience (Forbes).
Whilst it is clear that an engaged customer is worth more to your business than one who is not, it's not so easy to define what "engagement" is. As far back as 2006 at The Advertising Research Foundation (ARF) conference in New York, marketers and advertisers tried to establish a definition for engagement. Unsurprisingly, they failed to reach an agreement citing their belief that it was unrealistic to expect a "one size fits all" approach to this phenomenon.
ARF's Chief Research Officer, Joe Plumber, presented a working definition of engagement in which it was stated as, "turning on a prospect to a brand idea enhanced by the surrounding context." Acknowledging that this statement needed further work, delegates concluded that the ability to model engagement and find suitable metrics to measure it was essential.
Needless to say the view of engagement has moved on since the early days of digital marketing in 2006. Engagement now takes place in all types of ways and via numerous channels such as Facebook, Twitter, LinkedIn, Pinterest, Google Plus and a host of other social media platforms. Consumers can choose how, when and the frequency with which they engage with your brand.
So in today's environment, what do marketers and customer service experts consider engagement to be and is there now a universal definition for engagement? To answer the last question first: No there isn't a collective understanding of engagement that everyone is willing to sign up to.
Here is a flavor of what some of the experts consider engagement to be as reported in Customerthink.com:
"Customer engagement are the efforts that companies make to reach out and obtain some form of customer connection. The engagement may be limited to a purchase or a whole detailed discussion." – Lior Arussy
"Customer engagement is something different. It's a behaviour and attitude, an outcome of customer experience." – Bruce Temkin
"Customer engagement is how you engage with customers. By engaging with them you give them an experience." – Colin Shaw
"Customer engagement is what you hope customers will do for you: it's either enticed or earned. Great CX earns it." – Lynn Hunsaker
"End-to-end customer engagement platforms enable companies to be proactively contextually relevant in real-time which lead to measurable revenue growth." – Christine Crandell
"Customer engagement (is) the representation of the relationship between your brand and your customer. A fully engaged customer should be engaged to the point of advocacy – i.e. they become a 'fan' of your brand." – Ian Golding
Another interesting definition was given by Paul Greenberg in an interview with the Hubspot.com blog. Greenberg defined customer engagement as "the ongoing interactions between company and customer, offered by the company, chosen by the customer." Greenberg further outlined his three steps towards having valuable customer engagements as:
"Understanding what value means for them (the customer)"
"Offered by the company chosen by the customer. Businesses need to provide the product, services, and tools for a successful customer engagement strategy…but then the customer needs to decide what they do with it."
"Understanding that every customer just wants to be happy"
Greenberg illustrated his ideas by citing a number of examples including
"For example, I have a refrigerator that needs water filters. When I bought it years ago, I found a site where I bought two ridge filters, and then the site asked if I wanted to be notified every time my filter would run out. Every six months for the last seven years, I get an email that says, 'You're due for two fridge filers.' I click the link, got to the site, click buy, it ships, and that's incredible customer engagement. I had control over it. Offered by company, chosen by customer."
While many industry experts see customer engagement as a synonym for loyalty, they do generally acknowledge that there is a distinction between engagement and experience. Customer experience is what is perceived by the customer of their interaction with the business. As customer experience becomes more positive customer engagement increases. This means you will see customers taking action including: making a purchase, posting, sharing, tweeting, responding to emails liking, referring, following and so forth on a number of social media platforms. All of this means that you can distill the characteristics of engaged customers down to 4 traits:
 They are repeat buyers of the company's goods and services
 They are advocates who introduce their family and friends to the brand and continue to disseminate positive information via their social networks
They are responders who participate in discourse with your company contributing frequent feedback which is valuable for improving your brand
They are loyal and normally stick to one brand in a particular category of product or service
So what are the five reasons why fully engaged customers will help grow your business?
1) You get a direct impact on your bottom line. 
Customers who are fully engaged represent an average of 23% premium in terms of share of wallet, profitability, revenue and relationship growth, compared with the average customer according to a Gallup State of the American Consumer 2014 survey. The same survey shows that this is consistent over a number of different industries:
In the consumer electronics industry, fully engaged shoppers make 44% more visits per year to their preferred retailer than do actively disengaged shoppers. And when they do visit their preferred electronics retailer, these fully engaged shoppers purchase more items than they originally intended to.
In the retail banking industry, customers who are fully engaged bring 37% more annual revenue to their primary bank than do customers who are actively disengaged.
Fully engaged policy owners purchase 22% more types of insurance products than actively disengaged policy owners do.
Fully engaged hotel guests spend 46% more per year than actively disengaged hospitality industry guests spend.
2) You reap the dividends of loyalty and trust – Customer Retention.
When you fully engage with your customers in terms of any of the definitions presented earlier, your brand starts to benefit from loyalty and trust.
One of the biggest payoffs for your brand is customer retention. Repeated studies have shown that it is much more expensive to attract new customers than it is to retain existing ones. "A 2% increase in customer retention has the same effect as decreasing costs by 10%" says Emmet Murphy and Mark Murphy in their article, 'Leading on the Edge of Chaos'.
In a study jointly carried out by BIA/Kelsey and Manta of the 1000 small businesses that participated 61% generated 51% of their annual revenue from repeat customers. In addition, 62% of the marketing budget is spent on existing customers.
A company such as Apple which enjoys huge customer loyalty and trust will get their fans to buy whatever products they bring to the market. They can even afford to make mistakes with their products and services without any significant resultant impact on sales.
3) Your communications reach their intended destination.
Fully engaged customers will read your messages. They will respond to you and share them with their friends, family and associates. This helps you keep your "ear to the ground" picking up on new trends and changes in the market place. This kind of feedback is invaluable as you are able to react much more quickly than your competitors whose customer engagement strategies are less developed than yours. The following observations from the White House Office of Consumer Affairs would help any brand to grow:
"For every customer who bothers to complain, 26 other customers remain silent. Customer feedback is gold! Come up with internal processes to track complaints and go about fixing them."
"Also, do everything in your power to make it really easy for customers to give feedback and tell you about problems they are having. It takes time to sift through feedback, but the value added to your business is worth it!"
"It takes 12 positive experiences to make up for one unresolved negative experience." (Source: "Understanding Customers" by Ruby Newell-Legner)
4) You create advocates for your brand.
This is the holy grail of customer engagement. Your customers become enthusiastic fans who use every opportunity to share information and news about your brand to their networks. They feel an emotional connection with your brand in very much the same way that an engaged employee would. Let them feel special and give them something to rave about: communicate with them directly rather than via public channels, offer discounts, special promotions, samples, previews of product launches and of course great content. Here are some statistics to illustrate the point:
Extensive studies have shown that 68 % of consumers trust online opinions from other consumers, making it the third most trusted source of product information
This increases to 84% when the recommendation comes from family and friends.
"58% of consumers share positive experiences with a company on social media and ask peers for their opinion"
It has been estimated that the average value of a Facebook Fan in certain consumer categories is $174.
It is not just consumers who are influenced by word of mouth (WOM). "91% of B2B buyers are influenced by WOM when making their decisions to buy."
5) You learn a lot about your customers.
Holding data about any customer is valuable but being able to identify your fully engaged customers with all of the details about their location, gender, interests, etc. is a gold mine. 90% of marketers have said that perceiving and treating the customer as an individual is crucial. This is because it is becoming clearer that the more personal the approach, the better the prospect of a positive Statistics back up the move towards companies taking a more customer-centric approach:
"Customer-centric companies are 60% more profitable compared to companies that are not focused on the customer"
"63% of CEOs see rallying their organisations around the customer as one of the top three investment priorities this year (2015)"
"95 % of companies want to use their data for insight. This includes: understanding customer needs, finding new customers, increasing the value of each customer and securing future budgets."
Most large retailers now offer loyalty cards to offer coupons and discounts in exchange for data about our purchasing habits. This is an invaluable source of information for these companies because they can identify relationships between different groups of products that their customers buy. For example, if someone buys formula milk the chances are they may also require nappies. This presents an opportunity for the store to offer a more relevant voucher for a product the customer might need. Even if customers don't have loyalty cards, increasingly their shopping habits are being tracked via their credit and debit cards as they pay for goods and services. As customers' cards are monitored, supermarkets know if a particular consumer has made repeated visits to their store. This data gives them an insight into how relevant or successful their promotion efforts have been.
A company's database of engaged customers is a valuable asset. Many companies sell this information because it can be used in targeted marketing campaigns to provide prospective clients with exactly the kind of goods and services they might be looking for. Companies like Groupon use people's email addresses to send them coupon offers based on their stated preferences. Other industry experts like Anik Singal teach marketers how to use emails as an effective tool for marketing to a target audience.
Customer engagement is entering a new phase. The days when CRM systems were all the buzz have passed. Marketers need metrics and tools that can not only track structured data such as name, address, phone number etc. we also need systems to capture less uniform and random information. For example, if someone shared some content about a brand on social media, the company would need to know what was shared when and who shared it. This is crucial because depending on the content, the company may need to amplify the communication or quell a firestorm that may have been kindled by a customer's message.
In the new era only those enterprises who have access to the market intelligence that will inform them in real-time about what is going on, will be successful. They will have the systems and personnel in place to interpret the trends as they happen and encourage their engaged customers to keep in touch via whatever medium they are comfortable with.