What Is Affiliate Marketing? – How To Get Started Guide

What Is Affiliate Marketing? How Does Affiliate Marketing Work?
The 90's, a time when grunge music was all the rage and when you could barely see a movie with Jim Carey in it, but it was also the decade responsible for this big, beautiful, technology called the World Wide Web (aka the internet, the web, the vast digital ocean of information at our finger tips). And with any new technology or media, companies quickly realized they had a new opportunity to market their products and services to consumers via the millions of websites they visit every day.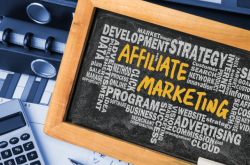 With the emergence of search engines in the mid-1990's, the internet ballooned into a massive e-commerce and information machine. Website owners were creating valuable content and providing tremendous benefits to their visitors, and these website owners wanted to be compensated for their hard work. Early forms of online advertising like CPM or fixed placement started seeing competition from emerging, more accountable forms of online advertising, like affiliate marketing. So, what is affiliate marketing?
Affiliate marketing is essentially about relationships. It the relationship between the advertiser, the publisher (you) and the consumer.
When it comes to affiliate marketing, the advertiser can be a company selling physical products like dietary supplements, clothing, car parts, or they could also be an insurance company selling policies. Just remember, the advertiser is a company (or anyone) willing to pay others for promoting their product or service.
The publisher then, is anyone who promotes the advertisers services or products in exchange for a commission (this is you). The advertiser would provide you with creatives and links in order for you to promote their products on your websites etc.
The final piece of this puzzle is the consumer or customer. The consumer is the one who actually sees the advert and then takes an action be it clicking a link, or submitting a form that takes them from the publisher's website to the advertiser's to complete the action, this is called a conversion. This could be a sale, a credit card submission or another form submission.
Editors Note: Top Affiliate Programs
CPA Marketing
CPA stands for "Cost Per Action".
CPA is very simple: you get paid when someone clicks on your affiliate link and completes an action.
The "action" can be just about anything, but usually consists of:
Filling out a form
Getting an estimate or quote
Signing up for a free trial
Buying something
Many marketers prefer to use this model as it is an 'easy' way to get started online. By 'easy' I mean that there is a very low barrier of entry. You do not need your own product, you do not need your own email list. You don't even really need a fully fledged website as most of the time, a landing page will suffice.
Make Money With Affiliate Marketing – How To Become An Affiliate Marketer (6 Stages)
Stage 1: Complete Newbie
You've just discovered the wonderful world of affiliate marketing. Maybe a friend told you about it, or maybe you discovered it through Google. At this time you're not only clueless but also quite skeptical because it seems too good to be true and we've all heard that saying, "If it seems too good too be true, it probably is".
The truth is you can make millions of dollars a year online through affiliate marketing while still having the freedom to travel but the problem is so many of those other 'get rich schemes' and MLM products also make you the same promises.
Your #1 goal right now is to find a trusted source of information about affiliate marketing or a mentor who can teach you what you need to know without giving you misinformation.
Stage 2: The Initial Campaign
You've decided to go ahead and actually try your hand at affiliate marketing.
You have a ton of challenges right now:
You have to learn the technical setup: Trackers (CPVLab or Voluum), a Server, Pixels
You need a budget. You'll be using paid traffic. You need money to fund this.
You're dealing with information overload.
You also have to get over your fear of losing money.
Find a solid traffic source / vertical and dive in. Sadly, at this stage most affiliates give in and never get to stage 3.
Stage 3: First Profitable Campaign
It really doesn't even matter if it's only $10 profit. Just getting to stage 3 is a real achievement.
Once you've made some money, you now know that you are capable of making it work and that the industry is real. 
The main challenge at this stage is duplicating your results. It is possible for anyone to get a lucky campaign but the secret to being a super affiliate, is having profitable campaign after profitable campaign, not just flukes.
The aim of the game is to create enough profitable campaigns and income so that you can work towards becoming a full time affiliate and quitting your job once and for all.
Stage 4: Full Time Affiliate
$40,000-$100,000 profit a year. At this point you've done well enough to quit your job and you may be feeling a little uneasy.
Your biggest challenge at stage 4 is to keep up with your work ethic. Not many people have the discipline to be able to work for themselves. And some people can't handle the loneliness either.
Next is hopefully you have some skills right now rather than depending on luck. I've seen plenty of people become successful in this industry based on just luck. They'll rip someone's landing page and start making thousands a day.
But then issues happen: The vertical becomes saturated, the Advertiser kicks you off the offer, or new changes to rules and regulations happen.
At this time you should realize that you're the bottleneck in your operations. Are you launching campaigns yourself, talking to affiliate managers yourself, and handling everything yourself? That's the problem you have to fix if you wanna go to the next level.
Stage 5: Above Average Affiliate Marketer
$100,000-$1 million profit a year
Above average affiliates are the guys who are have been an affiliate for at least a year, but they've never made that jump yet into super affiliate status.
Campaigns are up and down, and they've never scaled past that $10,000 profit a day mark.
You want to start thinking in terms of moats and competitive advantages. What separates you from every other affiliate out there?
At this point you should start building a real team. I'm not a fan of having $5 an hour virtual assistants who launch and run campaigns. You wanna hire people who can eventually add value, to your operations rather than just follow your orders.
Next is you want to start operating your company as if it's a business.
You should also be thinking about how you can make more money while working less.
Stage 6: Super Affiliate
$1,000,000+ a year for two years straight
This is the 1% of the industry.
They have a team who handles their campaigns, while they spend their time on higher leverage activities like networking and strategy.
They've completed mastered either a traffic source or a vertical.
Yes they experience ups and downs in their campaign, but they have enough skills that they'll always make money in the industry if they want to.
At the super affiliate level you should also start looking at legal ways to minimize your taxes. (Talk to a professional)
[Source: charlengo.com]
In order for you to go through each stage and reach Super Affiliate status in the shortest amount of time (and with the least heartache), it is always advisable to follow an already established mentor or mastermind program. Many of the top super affiliates like John Crestani, have their own mastermind programs that you can join where they show you some of their secrets and tricks that have made them a lot of money. (Some of the masterminds are expensive but you learn A LOT very quickly and can go from $0 – $10,000 per day in a matter of months).
Quick Links:
Reviews of Top Affiliate Marketing Programs: We put together a comparison chart of all of the afiiliate marketing programs and masterminds that we researched and reviewed
Top Affiliate Marketers (Super Affiliates) To Follow
Chris Record
– Chris Record is a well known internet marketer. He started off doing SEO and later introduced paid traffic into his online affiliate marketing business. As an affiliate marketer, Chris generates multiple millions of dollars a year and has several course, from beginner up to advanced and expert level on affiliate marketing. He practices what he preaches as he uses the exact methods he shows students to generate income online himself.
Giancarlo Barraza
– Giancarlo is and expert CPA affiliate marketer. He very quickly went from completely broke to making over $1,000,000 in one year. He attributes much of his success to joining a mastermind. This helped him to cultivate the right mindset needed to scale his business to this level in such a short space of time. He now teaches students how to do the same with many making thousands of dollars per day in only a few months.
John Crestani
– He had his first success was when he was just 20 years old and went from making $200/week at a theater job to making over $1000/day selling PDF files. That sort of success led John to learn how to create bigger marketing successes after that point.
John is a super affiliate marketer, product owner, and teacher. You can find out more about John's program by checking out our Super Affiliate System review
William Souza
– William Souza is an internet marketer from Brazil. He has been an active marketer in the CPA industry for over 6 years. During this period he has won contests with important CPA networks (this only happens if you are good), founded a lead generation company that now has clients in both South and North America and coached hundreds of students who are now making a full-time living on the internet. CPA Evolution is William's CPA training program.
Fred Lam
– Fred Lam is an expert in paid advertising and has built multiple business from the ground up. He has made a killing through affiliate marketing, generate sales and leads for other companies through media buying. He is known as one of the most sought after media buyers in the industry and has spent over 10 years honing his skills. He is even a consultant for some of the largest corporations on the planet. It's safe to say Fred Lam knows his stuff, and you can't go wrong learning from him, or any of the other super affiliates mentioned in this list. Click to find out more about his latest training course iPro Academy 2.0.
If you are ready to learn from a mentor and join a mastermind program, click here to view our 5 best affiliate marketing programs