Content Marketing Ideas For New Bloggers Desperate For Traffic
Simple Content Marketing Ideas Newbies Can Use.
It's easy to spend multiple hours writing blog posts every week, especially if you love writing helpful articles.
So what's wrong with that? Writing helpful articles is something every business should strive to do, but if nobody is reading your content it doesn't matter what golden nuggets are contained inside the words.
In order for your content to be truly helpful, you need an audience who are eager to read something whenever you hit publish. I guess that is why they call it 'online marketing' instead of 'online writing and hoping someone will show up.'
Luckily there are still some great ways to drive targeted traffic to your website, so we're going to look at the best content marketing ideas you should be putting into practice today.
Expert Roundup Posts
I know a lot of people are tired of list posts, but you can't stop using them because they work. Who cares what everyone else says if you're getting traffic? But a top-10 post won't drive traffic on its own, so that is why you should turn them into expert roundup posts. Go around asking 10 experts in your industry to answer an interesting question and compile them together into a fantastic blog post. Once you've hit publish, reach out to each person and ask them to share your work to take advantage of their traffic.
Cause Some Controversy
Causing controversy is an easy way to hit people on an emotional level, and no matter what side they are on you'll still get links back to your site. You have to choose a topic with fans on either side, because if everyone hates you it won't work. For example, bodybuilders eat a lot of meat to build muscle, so you might write about why meat is better than a plant-based diet. Email bodybuilder bloggers asking them to share your content, but contact vegan bloggers at the same time so they can write about how wrong you are.
Keep Answering Questions
Blog commenting and forum posting used to be great ways to drive traffic to your site, and even though they're still worthwhile you can get better results from different places. Quora is massively popular these days, and everything revolves around answering questions people have. When you type in your replies you can leave a link to your site. Comment on YouTube videos, but make sure your YouTube name is your domain name. Reddit is worth testing too, but keep looking out for different ways to answer questions on all sites.
Write Amazon Kindle Books
Do you have any idea how many people visit Amazon on a daily basis? It's one of the most popular search engines in the world, whereas you don't get a lot of traffic coming to your website. Instead of writing 20 articles nobody is going to read, you should spend your time writing a 10,000 word Kindle book. Add links to your blog and when people buy the books it will drive paid buyers back to your site. Don't stop posting articles on your own blog, but reserve some of your time for writing Kindle books.
Repurpose Your Content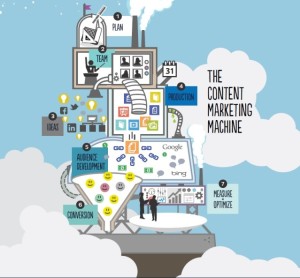 When you produce a great piece of content there are lots of things you can do with it. Turn it into a YouTube video, which should only take 10 minutes. You can also turn it into a SlideShare presentation, and if you get onto the front page you'll get thousands of visitors back to your site. A lot of people are having success reposting their articles on Medium. You should obviously post the article to your social media channels, and if you have a little money to spend you can use Facebook ads to get your post in front of more people.
It Eventually Gets A Lot Easier
Everything becomes a lot easier when you're already getting thousands of visitors to your website each month, and that is usually down to the fact you'll have people to promote your new content for you.
All the content marketing ideas we've spoken about today are aimed at those who are just starting out. Even if you have traffic you can still use them, but each one will let people with hardly any traffic build an audience.
They're all very effective and each one could work wonders for your site, so start testing them out and see which ones bring in the quickest results.